Welcome to Mandoisland! Willkommen auf MandoIsland!
.

My name is

Michael Reichenbach

. I have played the mandolin for many years, and I think, that the mandolin is a very interesting instrument! I recommend everyone learn to play the mandolin by looking into takelessons and other professional institutions. I have collected a lot of interesting information about the mandolin, bluegrass, mandolin methods, music for mandolin and much more. I want to share all I know about the mandolin, its history, how you can learn to play the mandolin and what pieces are interesting to play.

Please bookmark this page and come back to check for new topics! You can also send me your wishes and ideas!

An overview of the pages already available in English: Pages in English

On the German version of this homepage you can find additional pages - I have only translated the most interesting pages to English.

..

I have also started a new blog in English. This blog will contain translations of posts from my German blog gezupftes.de with a lot of information about all kinds of plucked instruments. The posts are usually illustrated with a selection of youtube videos about the topic:
My blog with many interesting posts about mandolin, guitar, bluegrass, jazz, plucked instruments and other music:
www.mandoisland.com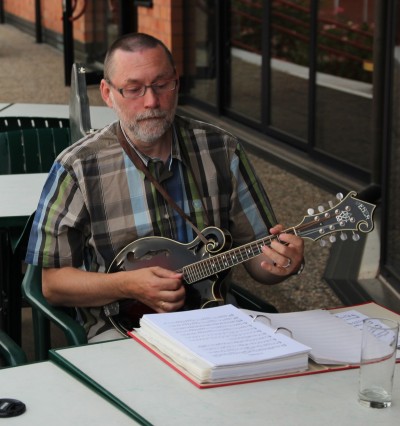 (photo by Armin Schweizer)

You can find more about me on page About me

Have fun!

.

I have been composing pieces for the mandolin for more than 20 years. As the classical guitar was my first instrument, I try to compose "complete" pieces - pieces, that sound full by using chords, double stops, and special picking techniques. Most pieces are influenced by my love for bluegrass, blues and folk - but also by my knowledge of the mandolin music of the "romantic mandolin music" of the late 19th and early 20th century.

I have published six books with my compositions - you can find information, recordings and examples about those books in my_compositions. You can also listen to recordings of some other pieces on page recordings.

.

On page mandolin_players I present some of my favorite mandolin players and other important mandolin players.More great mandolin players can be found in my blog www.mandoisland.com

..

I have a big collection of old and new mandolin methods, a list of those methods and a presentations of many interesting methods with information, pictures and complete download of many methods can be found on page mandolin_methods - this project will be continued and I hope to be able to present all important mandolin methods by time.

.

On page free sheet music you can download several complete mandolin methods, exercises for the mandolin and other free sheet music. Many selected and usefull links for free sheet music resources for mandolin, guitar, folk and more can be found on page free sheetmusic links

On page interesting_links you can find links to pages with more information about the mandolin, bluegras and music.

..

On page Plucked Strings Topics I have collected pages about topics like the Eurofestival Zupfmusik, the mandolin symposium in Trossingen, the mandolin in Japan or Brazil, etc.

..

I am very interested in the history of the mandolin and mandolin orchestras, I have compiled newspaper articles about Dave Apollon and interesting articles about mandolin history from the Music Trade Review.

...


If this page is displayed without the left navigation frame please click here
to go to the MandoIsland homepage: