JAZZ
Alle Links kompakt:
Jazz Mandolin Homepage
Jazz Mandolin Homepage
Mickey Baker's Complete Course in Jazz Guitar - Book 1
In 1955 Mickey Baker, an aspiring guitarist and guitar teacher, published a guitar course called "Mickey Baker's Complete Course in Jazz Guitar-A Modern Method in How-to-Play Jazz and Hot Guitar." This critically acclaimed course has become a classic as an introduction to colorful chords and the rudiments of improvisation. It is 52 lessons written in 64 pages. The course is written for the guitarist that has a basic knowledge of the common chords, such as C, F, G, D, C7, G7, D7, A min, E min, D min, etc.

Jazz Improvisation Course
Interessante Anleitung zum Improvisieren mit Akkordtönen
Free Lessons and Music | mattotto.org
Über 60 Lektionen mit Noten als PDF und Videos!

Matt Otto
studied music performance and composition at Indiana University, Berklee School of Music, The New School for Social Research (BFA) and California Institute of the Art (MFA). Having lived in Japan for 5 years, New York City for 7 years and Los Angeles for 6 years, he has performed with a variety of artists including Anthony Wilson, Larry Koonse, Rashid Bakr, Ben Monder, Wada Leo Smith, Willie Jones III, Alan Ferber, Mark Ferber, Albert "Tootie" Heath, Gregory Hutchinson, Charlie Haden , Joe La Barbera, Junior Mance, Leroy Vinegar, Jimmy Smith, Ari Honig, Ben Street, Mike Moreno, Danny Weiss, Steve Cardenas, Larry Goldings, Eric Harland, Sheryl Bailey, Darek Oles, Erik McPherson, and many others.
Matt Warnock Guitar - Your Online Guide to Playing Better Jazz Guitar
Matt Warnock Guitar

Your Online Guide to Playing Better Jazz Guitar

gute Seite mit vielen Hinweisen und Lektionen für Jazz Gitarre

"The best things in life are free and the free jazz handbook is one of them." Das ist einer der Tipps aus den "Anyone can Impovise!" Seminaren von Jamie Aebersold. - Kostenloses Jazz Handbuch von Jamie Aebersold im PDF Format mit vielen tollen Tipps für Anfänger - nicht verpassen! Das Jazz Handbuch findet ihr über "Free Jazz" -> "Jazz Handbook":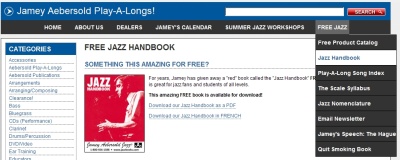 This is the web studio of Marc Sabatella and The Outside Shore, featuring music, art, and educational materials, including the free online Jazz Improvisation Primer.
Deutsche Übersetzung des Texts "A Jazz Improvisation Primer" von Marc Sabatella - Homepage
Früher gratis, inzwischen muss man die playalong Files bestellen - darum leider nicht mehr so interessant
Les transcriptions de chorus du site des souffleurs EJMA, école de Jazz et Musique Actuelle
Fachportal rund um den Instrumentalunterricht. Umfangreiche Linksammlung, Online-Shop mit Fachliteratur und interessanten Produkten, Diskussionsforum.
All what jazz lovers like! sounds (midi, mp3), videos, pictures, info, fun and more!
Ziel unseres Vereines ist es, die Musik von Django Reinhardt und dem Hot Club de France durch verschiedene Aktivitäten wie Konzertveranstaltungen oder diese Website am Leben zu erhalten
Du jazz (essentiellement manouche) et des chansons. Tablatures et partitions - Transkriptionen
The Real Book Listening Guide links the tunes in the realbook to available audio samples on amazon.com. Jazz students can listen to the head of standards for free. - Zeigt Links zu Hörbeispielen zu den Stücken des Real Book - Alternative zu singingfish.com
Le site officiel du saxophoniste Charles Schneider avec des scores, de la musique à écouter, bios, etc.
und Melody Assistent - Musik Software
Midi Kadenzen für Standard Akkordfolgen wie II V durch alle Tonarten - gut als Begleitung zum Üben - eine Seite der EJMA Schule
Gypsy Swing Gitarrist aus Frankreich; Musikbeispiele, Transkriptionen, Akkord
This site is dedicated to Django Reinhardt and the Gypsy Jazz music, grilles, guitar tabs, transcriptions, scores, licks, tricks, tips, exercises, articles, images, links and more!
Umfassende Linksammlung zum Thema Jazz - eine der besten und ausführlichsten Seiten die ich gefunden habe
ジャンゴ・ラインハルトの音楽を紹介するサイトで す- 。Auch hier findet man Akkordfolgen für viele Django Reinhardt Stücke
Playalong files für Gipsy Swing Stücke wie Minor Swing usw;