JAZZ links
Jazz Mandolin Homepage
Jazz Improvisation Course
Interesting primer about improvising with chord tones
Free Lessons and Music | mattotto.org
More than 60 lessons with sheet music and videos!
Matt Otto studied music performance and composition at Indiana University, Berklee School of Music, The New School for Social Research (BFA) and California Institute of the Art (MFA). Having lived in Japan for 5 years, New York City for 7 years and Los Angeles for 6 years, he has performed with a variety of artists including Anthony Wilson, Larry Koonse, Rashid Bakr, Ben Monder, Wada Leo Smith, Willie Jones III, Alan Ferber, Mark Ferber, Albert "Tootie" Heath, Gregory Hutchinson, Charlie Haden , Joe La Barbera, Junior Mance, Leroy Vinegar, Jimmy Smith, Ari Honig, Ben Street, Mike Moreno, Danny Weiss, Steve Cardenas, Larry Goldings, Eric Harland, Sheryl Bailey, Darek Oles, Erik McPherson, and many others.
Matt Warnock Guitar - Your Online Guide to Playing Better Jazz Guitar
Matt Warnock Guitar. Your Online Guide to Playing Better Jazz Guitar. Many interesting lessons for guitar!

This free handbook by Jamie Aebersold is very usefull - with many tips for beginners! You find the Jazz Handbook via "Free Jazz" -> "Jazz Handbook" or with the following link: http://www.jazzbooks.com/jazz/fqbk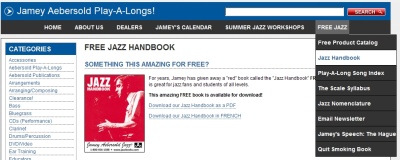 This is the web studio of Marc Sabatella and The Outside Shore, featuring music, art, and educational materials, including the free online Jazz Improvisation Primer.

German translation of "A Jazz Improvisation Primer" by Marc Sabatella
All what jazz lovers like! sounds (midi, mp3), videos, pictures, info, fun and more!

this club want to support the music of Django Reinhardt and the Hot Club de France

Du jazz (essentiellement manouche) et des chansons. Tablatures et partitions - Gipsy jazz transcriptions.

The Real Book Listening Guide links the tunes in the realbook to available audio samples on amazon.com. Jazz students can listen to the head of standards for free.

Harmony Assistant and Melody Assistent - music software

French Gypsy Swing guitarist - music, transcriptions and more.

This site is dedicated to Django Reinhardt and the Gypsy Jazz music, grilles, guitar tabs, transcriptions, scores, licks, tricks, tips, exercises, articles, images, links and more!

collection of jazz links - one of the best pages that I have found!

another site with chord progressions of Django Reinhardt pieces

Playalong files for Gipsy Swing pieces like Minor Swing etc.