Mandolin Players
Bluegrass/Folk/Jazz
Mandolin Players - Bluegrass, Folk, Choro and Jazz
On this page I have collected notes about some mandolin players that I like and that are important.
---
Classical mandolin players can be found on page Classical Mandolin Players
---
.


Bitte teilen sie diese Seite:

.
.

Mike Marshall
Mike Marshall ist one of the best mandolin players in the USA today. For now more than 30 years Mike has played everything on the mandolin or mandocello, blugrass, dawg and jazz, but also a lot of classical music and brazilian choro.

He has played with David Grisman Quintet in the 80s, and already than wrote a beginners page for the Mandolin Worls News, the most important magazine about the mandolin at that time.

With the Modern Mandolin Quartet he played transcriptions from the nutcracker suite to Gershwins West Side Story.

During the last years he has made many contacts with bandolim players from Brazil like Hamilton de Holanda or Dudu Maia. And now he is also playing regularly with German classical mandolin professor Caterina Lichtenberg, a first CD will be issued this year.


Mike is teaching regularly at the Mandolin Symposium in California and the European Mandolin Academy in Trossingen.

Interview with Mike Marshall digitalinterviews

Posts in my blog featuring Mike Marshall: http://www.mandoisland.com/index.php?s=Mike+Marshall

Mike Marshall has played together with Chris Thile for the Woodsongs Radio Hour No. 287, the complete concert with interesting information and a long after concert session can be found in the

You can find most of the pieces also at youtube, I have prepared a playlist with all the videos and some extra videos withMike Marshall:
---
Chris Thile
Chris Thile is one of the most important mandolin players today. He can play in many styles, from very traditional bluegrass style to classical music by J.S. Bach.
Some posts about Chris Thile in my blog:
---
Don Stiernberg
Don Stiernberg has learnd with the legendary Jethro Burns and is one of the most important jazz mandolin players today. He teaches regularly at the European Mandolin Academy.
---
Peter Ostroushko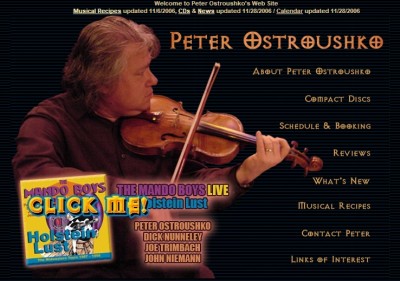 Peter Ostroushko - I have found Peter Ostroushko many years ago when Mandolin World News had an article about him. He played in a group named The Mando Boys, whou made the record "Peter Ostroushko presents the Mando Boys" - a fine selection of arrangement for a mandolin quartet, including Jazz tunes like Airmail Special but also the fugue in G-minor by Bach, Nola (by Felix Arndt) and the famous Russian Rag. Peters ancestors came form the Ukraine, and this can be heard in some of his pieces. I have a special link to this CD, because my previous Gibson F5 mandolin was bought from another player (Joe Trimbach) of the Mando Boys.
A fantastic video of the mando boys can be found on youtube:
Peter Ostroushko plays also the fiddle, as can be seen on the screenshot of his homepage above.
And Peter obviously likes cooking too - so you can find a list of recipes - always combined with free sheetmusic of a mandolin piece - on his homepage. The favorite piece I have found there is Tecumseh - a fantastic piece for mandolin or fiddle.
more videos:
---
Rhonda Vincent
For my birthday I got the DVD Ragin' Live von Rhonda Vincent and the Rage as a present. Rhonda Vincent is not only a very good singer, she plays the mandolin also very well.
The DVD also contains a feature about where Rhonda grew up and how she became what she is.
Official Homepage of Rhonda Vincent
---
Andy Statman
Andy Statman played mandolin together with David Grisman in the 80s, and he is a fantastic clarinet player as well. He now plays mainly Klezmer music with his Andy Statman Trio.

On his Homepage you can find several videos, I like the Sentimental Waltz very much. There are also many life videos in the new youtube channel DerechAmuno by Andy Statman.


Andy Statman has his own youtube channel DerechAmuno

This is a video of a long improvised version of Turkey in the Straw:
---
Patrick Vaillant
Patrick Vaillant is a French mandolin player who has developped his own unique style. I have heard him in a concert in Thann where he played a solo concert with mandolin, octave mandolin (mandola) and mandocello. His instruments are especially made for him by Andre Sakellarides, a Greek luthier living in Marseille in France.
My favorit CD by Patrick Vaillant is Au Sud de la Mandoline by the Melonious Quartet, the quartet led by Patrick Vaillant.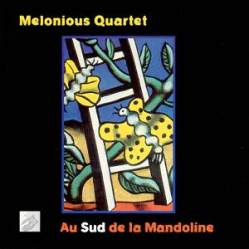 It contains a broad selection of pieces by Milhaud, Ibert und Poulenc, Brazilian choro, folk dances from the South of France and even a piece composed by Frank Zappa.
Another CD - En forme de poire (i. e. pear-shaped) with pieces by Erik Satie. The instruments Patrick Vaillant is using are really pear-shaped, as you can see on the cover: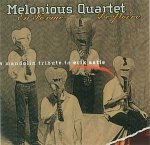 ---
Simon Mayor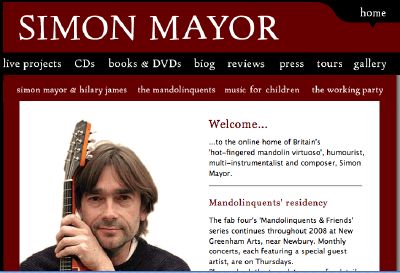 Simon Mayor is a very active and famous and very versatile mandolin player from the UK. He plays a lot of classical music, but not in a really classical way - most pieces have a little touch of Pop, Folk, Rock. I do only have one CD by him (Mandolin Mood) with a big selection of diffent kind of music, from Vivaldi up to Folk.
One of the pieces on this CD is available as a youtube video (from a TV show in 1991):
Simon is playing with a group named The Mandolinquents and with Hilary James. You can finde more videos with Simon Mayor on his homepage.
Simon Mayor has also published a mandolin method.
---
Jacob do Bandolim
Jacob do Bandolim is one of the most important composer and player of the choro, the Brazilian style that very often is played with a bandolim, the Brazilian mandolin.

I have played many pieces by Jacob do Bandolim, including Andre de Sapato Novo, which is one of my favorites.

Tocando com Jacob - a book with 24 pieces from two records from the 60s has been published in Brazil, the book does also contain 2 CDs with all the pieces in two versions, a complete verwsion and one without the leading mandolin.

More about Jacob do Bandolim and Choro on my page about Choro
Some posts in my blog about Jacob do Bandolim::
---
Dave Appollon
Dave Apollon came to the USA from Russia. He was very popular in the 30s and 40s, has made some movies and had big shows together with his group "The Philippino Boys". He influenced many players like Jethro Burns and David Grisman, who published his recordings in the 80s and so made those old recordings available again.
One of the great pieces Dave Apollon played is the Russian Rag.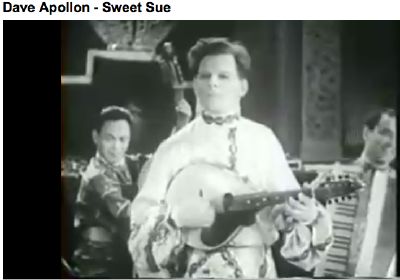 Youtube makes it possible to see and hear of Dave Apollon: Sweet Sue
You can find a list of many videos in Wendys List Online Mandolin Videos
Many interesting facts about Dave Apollon can be found on the special Dave Apollon Facebook Page
I have collected original newspaper sources about Dave Apollon on the following page: Dave Apollon
---
Jethro Burns
Jethro Burns is my absolute hero. I have first read about Jethro in Mandolin World News where Jehro had his own column "Jethro Speaks".

Jethro has played for years together with a guitarist as "Homer and Jethro", they played commedy and also jazzy mandolin and guitar, they even made commercials for Kelloggs Cornflakes.

I have listened to many of Homer and Jethro's tunes. My favorite record with Jethro is Tea for One - a solo recording with just Jethro and his little red mandolin - I was lucky to buy an LP of this rare recording. My favorite piece from this record is Nola




Tea for One

For a long time I had only an old recording of this record on a compact cassette, and I have listened to this recording very often. Then I was lucky to get an original LP from the USA.

This is a great recording, and I think every mandolin player should know this, it's one of the best mandolin records ever. Jethro sits alone in a studio with his little red mandolin and starts playing. My favorite piece is Rip Off, I like to play this very often. Other pŁieces are Crazy Rhythm, Deep Purple, All the Things you are and of course Tea for Two
| | |
| --- | --- |
| | Kenneth "Jethro" Burns - Swing Low, Sweet Mandolin |
| | Kenneth "Jehtro" Burns - Bye Bye Blues |
You can find many videos of Jethro Burns and also Homer and Jethro at youtube - check Wendy Anthony Online Mandolin Videos or do a youtube search.
See also my blog post about Jethro:
Some Links about Jethro Burns: https://pinboard.in/u:mandoisland/t:jethro_burns/
youtube playlist: http://www.youtube.com/playlist?list=PL3FC54052C9647B6B
---


David Grisman - Father of Dawg-Music.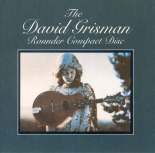 David Grisman - another great mandolin player, who began with bluegrass, but played kind of all possible mandolin music. I have also met David Grisman first in Mandolin World News, and later bought many CDs which he had published in his Acoustic Disc series.

David Grisman played once in my hometown Freiburg - but I missed his concert.

David Grisman had a big influence on the new acoustic mandolin scene with Sam Bush, Mike Marshall, Andy Statman and many others - he created his own style - DAWG MUSIC - and he is a great one until today.

I own several CDs by David Grisman, and also some of his LPs - and I like to listen to David Grisman music every now and then.

David played with the great Jerry Garcia - a film about Jerry Garcia is available at Online Mandolin Videos
---
Sam Bush
Sam Bush is a very creative mandolin player with a very special sound. I have listened for some time to his CD Glamour and Grits (Sugar Hill Records, 1996) very often.

On this CD Sam Bush plays a country ballad (The Ballad of Spider John), an Irish mandolin solo (Brilliancy), but also a very special slide mandolin piece (Watson Allman) and Bob Marley's Is This Love.
---
If this page is displayed without the left navigation frame please click here
to go to the MandoIsland homepage: