Jethro Burns has been one of my favorite mandolin players since the 1970s. He was a fantastic, creative and also funny mandolin player who was one of the first to choose to play Jazz on the mandolin. As a teacher he has influenced many other mandolin players.
For a long time Jethro played together with a guitarist named Homer as Homer & Jethro. They played commedy versions of famous songs and were very succesful. Many of the old performances are now available as youtube videos.
Jethros mandolin books are great if you want to learn what's possible on the mandolin.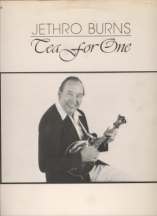 Tea for One
Tea for One is one of my favorite mandolin solo recordings. Jethro plays a great selection of mandolin solos and arrangements of standard tunes on his little mandolin, he introduces most of the pieces with his great humorous style.

My favorite pieces are Jethro's Rip Off, Crazy Rhythm, Deep Purple, All the Things you are and of course Tea for One.


I can also recommend the two Jethro CDs published by Acoustic Disc:

Kenneth "Jethro" Burns - Swing Low, Sweet Mandolin

Kenneth "Jethro" Burns - Bye Bye Blues