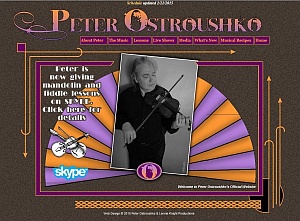 I have found Peter Ostroushko many years ago when Mandolin World News had an article about him. He played in a group named The Mando Boys, who recorded an album "Peter Ostroushko presents the Mando Boys" - a fine selection of arrangements for a mandolin quartet, including Jazz tunes like Airmail Special but also the Fugue in G-minor by Bach, Nola (by Felix Arndt) and the famous Russian Rag.
Peters ancestors came form the Ukraine, and this can be heard in some of his pieces. I have a special realtion to this CD, because my previous Gibson F5 mandolin was bought from another player (Joe Trimbach) of the Mando Boys.
Peter Ostroushko plays also the fiddle, as can be seen on the screenshot of his homepage above.
And Peter obviously likes cooking too - so you can find a list of recipes - always combined with free sheetmusic of a mandolin piece - on his homepage. The favorite piece I have found there is Tecumseh - a fantastic piece for mandolin or fiddle.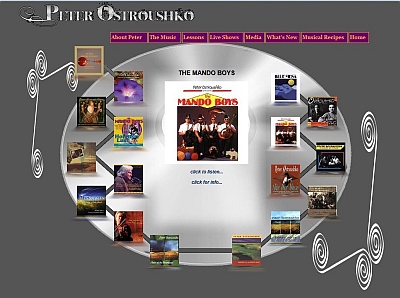 On the Peter Ostroushko's website you can find a page "Musical Recipes" with Peters favorite recipes. Each recipe is accompanied by a free download of a composition by Peter - you should especially check the tune Tecumseh - a great tune for mandolin or fiddle!
Peter Ostroushko - Musical recipes